Il gestore di password più amato al mondo
1Password è il modo più semplice per archiviare e utilizzare password complesse. Accedi ai siti e compila i moduli in modo sicuro con un solo click.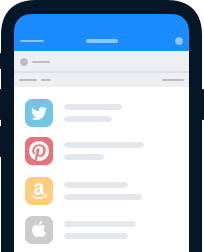 Esplora le Novità di 1Password
Moving your business to 1Password?
Get industry-leading security and support during every step of your migration journey when you join 1Password.
Learn more
How 1Password is designed to keep your data safe
1Password is built to protect what you store in your vaults even in the unlikely event of our systems being breached.
Find out how
Il gestore di password aziendale sicuro
Più di 100.000 aziende si affidano a 1Password per proteggere la propria attività e i propri dati.
Proteggi la tua famiglia online
Il modo più semplice e sicuro per condividere accessi, password, carte di credito e altro con le persone che contano di più. Vai avanti, e dimentica le tue password - 1Password le ricorda tutte per te.
Prova gratis per 14 giorni
Presentiamo 1Password University
La formazione sulla sicurezza non deve essere noiosa. Ecco perché abbiamo creato 1Password University - risorse di sicurezza gratuite, specializzate, fatte per tutti.
Inizia
Strumenti di sviluppo
Semplifica e proteggi i tuoi processi di sviluppo a partire da Git.
Scopri di più